Copper CDA 101, CDA 102, CDA 110 Fasteners, Copper hex cap screw, Copper High Tensile Fasteners, copper fastener, Copper Split Bolt, Copper Nut Bolt, Copper Nuts, Copper flat washer Supplier & Exporter
Rahul Fasteners & Fittings is one of the well-known distributors and exporters of Copper Fasteners, which offer some excellent features such as Low maintenance, Sturdy design, User friendly, Dimensional accuracy, Strong construction, Long functional life, Precise design, Reduces rotational friction, Corrosion resistance and more. Reckoned as one of the emergent companies of the industry, we are extremely immersed in providing these fasteners. To meet the diversified requirements of our prestigious clients, we are offering an assorted range of these fasteners. They are manufactured using superior quality stainless steel and thereby ensure excellent durability. Engaged as a manufacturer and supplier, we are engrossed in offering these Cu Fasteners. We also offer the same in different types such as COPPER BOLTS, COPPER NUTS, COPPER STUDBOLTS, and COPPER WASHER. The resistance is extremely important for services such as marine environments, brackish water, bleaching operations, closed loop water systems and some food processing applications.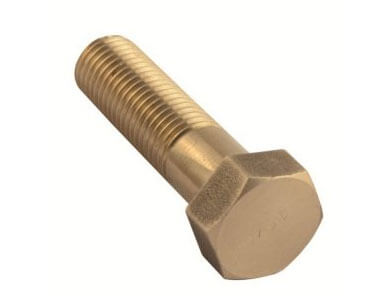 COPPER HEX BOLT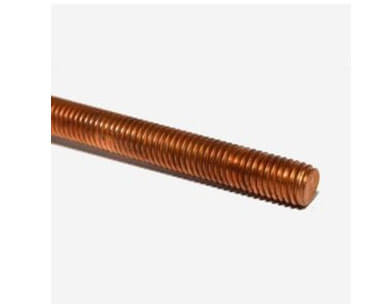 COPPER THREADED ROD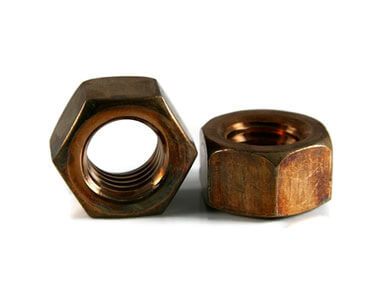 COPPER NUTS
It is used for nutritional supplements and fungicides in agriculture. Machining of copper is possible, although alloys are preferred for good machinability in creating intricate parts. All our precision machinery parts have gained wide acceptance in the global markets. All our precision machinery parts are offered in various standard dimensions and also as per the specifications of our clients. It is used in many applications where light weight & high strength are critical, for example in an aircraft. Buy Copper Alloy Fastenersat reasonable rates from us at customized sizes and shapes. These are also available in distinguished sizes, thicknesses and dimensions.
Copper fasteners have high strength and corrosion resistance. Copper has excellent electrical and thermal conductivity. It also has strong antimicrobial properties. Copper .
Copper fasteners are used in a variety of industries because they provide all of these benefits. They are used in the maritime, sanitary, and medical industries. They are also
Copper Screws, Copper heavy hex nuts, Copper Hex Bolts, Copper Fasteners Manufacturers, copper fasteners suppliers, Copper Hex Bolts, Copper Fasteners Manufacturers, copper fasteners suppliers, Copper threaded rod, Copper round head bolts Manufacturer & Stockist
| | | | |
| --- | --- | --- | --- |
| Material | Specification | Standards | Size |
| | | CDA 101, CDA 102, CDA 110 | |
Copper Fasteners Price
Copper Hexagon Bolt
US $0.01-1.5 / Piece
Copper fastener heavy hex nuts M8
US $0.001-0.009 / Piece
Copper Hex Socket Cap Screw
US $0.1-2 / Piece
Copper spring washer
US $0.02-0.6 / Piece
Copper full threaded Stud bolt
US $1-2000 / Piece
Copper Bolts Price List India
COPPER BOLT UNIT 100 NOS & EACH (CASTING FOR WIRE ADDITIONAL BY 50 %)

SIZE

LENGTH

DIA.

1/2

3/4

1″

1 1/4″

1 1/2″

2″

2 1/2″

3″

4″

3/16

₹270.00

₹342.75

₹372.75

₹490.50

₹516.75

₹636.00

1/4

₹419.25

₹538.50

₹675.00

₹783.75

₹893.25

₹1101.75

₹1359.00

₹1541.25

₹2104.50

5/16

₹745.50

₹905.25

₹1101.75

₹1308.00

₹1517.25

₹1786.50

₹2128.50

₹2580.00

₹3264.75

3/8

₹1174.50

₹1492.50

₹1614.00

₹1871.25

₹2140.50

₹2655.00

₹3106.50

₹3715.50

₹4856.25

1/2 INCH

₹36.00

₹40.50

₹42.75

₹51.00

₹63.00

₹71.25

₹93.00

5/8 INCH

₹60.75

₹77.25

₹87.00

₹93.00

₹101.25

₹117.75

₹168.00

3/4 INCH

₹133.50

₹164.25

₹184.50

₹198.75

₹251.25
Copper Bolts Application
102 Copper Fasteners uses in Gas Processing
Copper Anchor Bolts uses in Heat Exchangers
101 Cu Fasteners uses in Pharmaceutical Equipment
101 Copper Nuts uses in Specialty Chemicals
Cu U Bolts uses in Spiral Welded tube for burner pipes and flues
Cu Fasteners uses in Power Generation
Copper Fasteners uses in Aircraft Exhaust Manifolds
110 Cu Studs uses in Petrochemicals
102 Copper Bolts uses in Off-Shore Oil Drilling Companies
Copper Bolts And Nuts uses in Pharmaceuticals
110 Copper Threaded Rod uses in Sea Water Equipment
Other Types Of Copper Fasteners
| | |
| --- | --- |
| Copper Fasteners | Copper Fasteners |
| Copper Nuts | Copper Bolts Supplier |
| Copper Double Ended Stud | Copper Tie Bar Exporter |
| Copper Square Bolts Supplier | Copper Punched Washer Distributor |
| Copper Lock Nut Supplier | Copper Coupler Nuts |
| Copper Flat Washer | Copper Locking Nuts Manufacturer |
| ISO Certified Copper Studbolt | Copper Countersunk Slotted Screw |
| CDA 110 Copper Washers Exporter | Copper Stud Bolt |
| CDA 102 Copper Fender Washer | Copper Bolts Manufacturer |
| CDA 101 Cap Screw | Copper Foundation Bolts |
| CDA 101 Copper Square Nut Exporter | Copper Pan Head Screw Stockist |
| Copper Bolts Manufacturer | Copper Pan Head Screw |
| Copper Barrel Bolt | Copper Bolt Manufacturers |
| Copper Alloy Bolt | Copper Colored Bolt |
| CDA 110 Hex Nuts | CDA 102 Tie Rods |
| Copper 101 Flange Bolts | Cu 101 Heavy Hex Bolts |
| 110 Cu Hex Head Bolts | Cu Anchor Bolts |
We are Exporter of Copper Fasteners Heavy Hex Nuts in Worldwide Such as India, Greece, Canada, Azerbaijan, Afghanistan, China, Croatia, Norway, Kazakhstan, Yemen, Gambia, United Arab Emirates, Kuwait, South Korea, Bangladesh, Colombia, Chile, Czech Republic, Qatar, Zimbabwe, Australia, Bolivia, Jordan, Indonesia, Algeria, Finland, Estonia, Macau, Switzerland, Ghana, Austria, Belarus, New Zealand, Venezuela, Portugal, Iran, Angola, Thailand, Malaysia, Ireland, Netherlands, Oman, Hong Kong, Namibia, Peru, Chile, Vietnam, Pakistan, Iraq, France, Iran, South Africa, Gabon, Puerto Rico, Italy, Sri Lanka, Saudi Arabia, Ukraine, Mongolia, United Kingdom, Mexico, Taiwan, Romania, Costa Rica, Singapore, Brazil, Trinidad & Tobago,Tunisia, Sweden, Nigeria, Russia, Hungary, Nigeria, Germany, Morocco, Belgium, Poland, Bahrain, Lithuania, Poland, Mexico, Libya, Japan, Lebanon, Bulgaria, Denmark, Spain, Kenya, Bhutan, Tibet, Argentina, Nepal, India, Egypt, Philippines, Turkey, Serbia, United States, Israel, Slovakia, Ecuador.
We are Suppliers of Copper Fasteners StudBolts in India Such as Mumbai, Chennai, Singapore, Mumbai, Port-of-Spain, Jamshedpur, Bhopal, Istanbul, Visakhapatnam, Ahmedabad, Aberdeen, Jakarta, Tehran, Muscat, Bengaluru, Mexico City, Sydney, Bogota, Dallas, Abu Dhabi, Manama, Gimhae-si, Melbourne, La Victoria, Santiago, Thiruvananthapuram, Brisbane, Rio de Janeiro, Busan, Granada, Colombo, Indore, Perth, Al Khobar, Milan, Toronto, Kuala Lumpur, Ernakulam, Bangkok, Kanpur, Seoul, Ulsan, Courbevoie, Nagpur, Madrid, Ludhiana, Montreal, Doha, Pimpri-Chinchwad, Chiyoda, Geoje-si, Noida, Hong Kong, Pune, Jaipur, Surat, Howrah, Kolkata, London, Hyderabad, Vadodara, New York, Houston, Hanoi, Caracas, Cairo, Coimbatore, Atyrau, Nashik, Baroda, Ho Chi Minh City, Dammam, Sharjah, Edmonton, Al Jubail, Petaling Jaya, Karachi, Ranchi, Ahvaz, Haryana, Secunderabad, Lahore, Riyadh, Navi Mumbai, Calgary, Chandigarh, New Delhi, Dubai, Algiers, Gurgaon, Jeddah, Thane, Faridabad, Lagos, Kuwait City, Ankara, Rajkot, Moscow, Vung Tau, Los Angeles.