Aluminium Bronze Screws, Aluminium Bronze heavy hex nuts, Aluminium Bronze threaded rod, Aluminium Bronze round head bolts Manufacturer & Stockist
Rahul Fasteners & Fittings is one of the well-known aluminium bronze stockist, manufacturers and suppliers of ALLUMINIUM BRONZE FASTENERS, which are used for their combination of high strength, excellent corrosion and wear resistance. Nickel aluminium bronze includes non-vacuum mode cast and vacuum mode cast on the base of classification, which represent 48% and 21% of global nickel aluminium bronze market. Aluminum bronze is a type of bronze in which aluminum is the main alloying metal added to copper, in contrast to standard bronze (copper and tin) or brass (copper and zinc). Nickel aluminium bronze suppliers produce products which have strong properties of strength and corrosion resistance due to its high aluminum and iron content. Aluminum bronze alloys typically contain 9-12% aluminum and up to 6% iron and nickel. Marine, Industrial and plumbing are the main application of Nickel Aluminum Bronze Fasteners and is the largest nickel aluminum bronze market on production and consumption.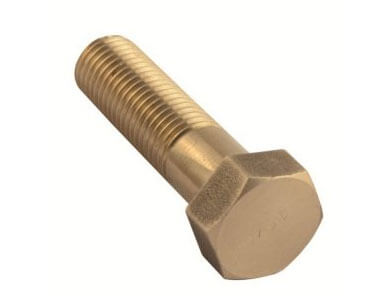 ALUMINIUM BRONZE HEX BOLT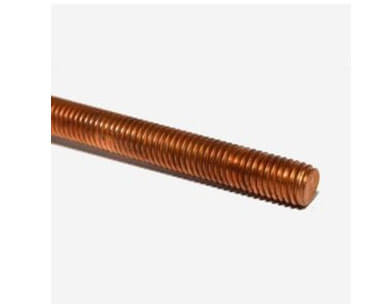 BRONZE THREADED ROD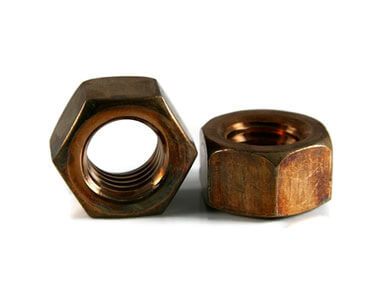 ALUMINIUM BRONZE NUTS
A variety of aluminum bronzes of differing compositions have found industrial use, with most ranging from 5% to 11% aluminum by weight, the remaining mass being copper; other alloying agents such as iron, nickel, manganese, and silicon are also sometimes added to aluminum bronzes. Aluminum in conjunction with iron and nickel in C955 acts as a strengthener in these alloys. These alloys are tarnish-resistant and show low rates of corrosion in atmospheric conditions, low oxidation rates at high temperatures, and low reactivity with sulfurous compounds and other exhaust products of combustion. We also offer the same in different types such as ALLUMINIUM BRONZE BOLTS, ALLUMINIUM BRONZE NUTS, ALLUMINIUM BRONZE WASHERS, and ALLUMNIUM BRONZE STUD BOLTS. Meanwhile buy ALLUMINIUM BRONZE FASTENERS at reasonable rates from us.
Aluminium bronze is also known as nickel–aluminum bronze, and manganese–aluminum bronze. Aluminium bronze is an alloy of copper containing 4% – 15% aluminum other minimal amount of metals, in which the chemical composition needed to manufacture bronze bolts and nuts might differ depending upon its industrial uses.
Asiads Steels is a leading aluminum fastener manufacturer and supplier in various range of industries.
Aluminium bronze fasteners are seamless bronze nuts with an aluminium alloy and good oxidizing acid resistance. The majority of aluminium bronzes have a composition of 5–11% aluminium, with copper as the primary material and other metals added.
Aluminium Bronze Screws are used in chemical, petrochemical, pharmaceutical, and marine industrial applications for their high corrosion resistance.
ASTM / ASME SB 111 Aluminium Bronze Fasteners, Aluminium Bronze hex cap screw, Aluminium Bronze High Tensile Fasteners, Aluminium Bronze Nuts, Aluminium Bronze flat washer Supplier & Exporter
| | | | |
| --- | --- | --- | --- |
| Material | Specification | Standards | Size |
| | | ASTM B 111 C60800/ASME SB 111 C 60800 /EN 12451 CuAL5AS / CW200 / C61400 / C95400 / C61800 / C62300 / C62400 / C62500 / C95200 / C95900 / CuAL11Ni5Fe5, BS1400-AB1 & AB2, BS2874 CA104 & Ca103 / CW300G/ CW303G | |
Aluminium Bronze Fasteners Price
Aluminium Bronze Hexagon Bolt
US $0.01-1.5 / Piece
Aluminium Bronze fastener heavy hex nuts M8
US $0.001-0.009 / Piece
Aluminium Bronze Hex Socket Cap Screw
US $0.1-2 / Piece
Aluminium Bronze spring washer
US $0.02-0.6 / Piece
Aluminium Bronze full threaded Stud bolt
US $1-2000 / Piece
Aluminum Bronze Fasteners Equivalent Grades
CDA

ASTM

ASARCON

SAE

AMS

Federal

Military

Other

C95400

B505

QQ-C-390, G5;
QQ-B-671, CLASS 3

MIL-B-16033, CLASS 3

ALUMINUM BRONZE 9C

C95400

B505

QQ-C-390, G5;
QQ-B-671, CLASS 3

MIL-B-16033, CLASS 3

ALUMINUM BRONZE 9C

C63000

B150-12

J461 J463

4640

QQ-C-465B AMD1
Aluminium Bronze Physical Properties
| | | |
| --- | --- | --- |
| Melting Point – Liquidus | 1930° F | 1054° C |
| Melting Point – Solidus | 1895° F | 1035° C |
| Density | 0.274 lb/in3 at 68° F | 7.58 gm/cm3 at 20° C |
| Specific Gravity | 7.58 | 7.58 |
| Electrical Conductivity | 7% IACS at 68° F | 0.041 MegaSiemens/cm at 20° C |
| Thermal Conductivity | 22.60 Btu · ft/(hr · ft2 · °F) at 68° F | 39.1 W/m at 20° C |
| Coefficient of Thermal Expansion | 9.0 · 10-6 per °F (68°-572° F) | 15.5 · 10-6 per °C (20°-300° C) |
| Specific Heat Capacity | 0.090 Btu/lb/°F at 68° F | 377.1 J/kg at 293° C |
| Modulus of Elasticity in Tension | 17500 ksi | 120650 MPa |
| Modulus of Rigidity | 6400 ksi | 44130 MPa |
Other Types Of Aluminium Bronze Fasteners
Aluminium Bronze Fasteners
Aluminium Fasteners

Aluminium Bronze Nuts

Aluminium Bronze Bolts Supplier

Aluminium Bronze Washers Exporter

Aluminium Bronze Stud Bolt

Aluminium Bronze Fender Washer

Aluminium Bronze Bolts Manufacturer

ASTM / ASME SB 111 Cap Screw

Aluminium Bronze Foundation Bolts

Aluminium Bronze Square Nut Exporter

Aluminium Bronze Pan Head Screw Stockist

ASTM C63200 Aluminium Bronze Bolts Manufacturer

ASTM C 63000 Aluminium Bronze Pan Head Screw

Aluminium Bronze Double Ended Stud

Aluminium Bronze Tie Bar Exporter

Aluminium Bronze Square Bolts Supplier

Aluminium Bronze Punched Washer Distributor

ASTM C 62400 Aluminium Bronze Lock Nut Supplier

Aluminium Bronze Coupler Nuts

Aluminium Bronze Flat Washer

Aluminium Bronze Locking Nuts Manufacturer

Aluminium Bronze Studbolt

Aluminium Bronze Countersunk Slotted Screw

Aluminium Bronze Bolts
We are Exporter of Aluminium Bronze Fasteners Nuts in Worldwide Such as India, Turkey, Namibia, Yemen, South Africa, Australia, Netherlands, United Arab Emirates, United Kingdom, Ghana, Italy, Tibet, Hong Kong, China, Argentina, Costa Rica, Lithuania, Sri Lanka, Kuwait, Germany, Venezuela, Afghanistan, Pakistan, United States, New Zealand, Trinidad & Tobago,Tunisia, Iran, Norway, Brazil, Mongolia, Ukraine, Bahrain, Canada, Zimbabwe, Romania, Hungary, Finland, Indonesia, France, Belgium, Poland, Saudi Arabia, Macau, Belarus, Nepal, Russia, Czech Republic, South Korea, Chile, Mexico, India, Qatar, Denmark, Bolivia, Sweden, Israel, Serbia, Austria, Azerbaijan, Portugal, Thailand, Malaysia, Vietnam, Ireland, Switzerland, Ecuador, Greece, Chile, Oman, Angola, Peru, Jordan, Philippines, Croatia, Nigeria, Iraq, Poland, Iran, Bangladesh, Algeria, Taiwan, Puerto Rico, Nigeria, Gabon, Singapore, Lebanon, Colombia, Egypt, Morocco, Bulgaria, Gambia, Spain, Kenya, Estonia, Japan, Libya, Slovakia, Kazakhstan, Bhutan, Mexico.
We are Suppliers of Aluminium Bronze Fasteners Bolts in India Such as Mumbai, Doha, Mumbai, Dallas, Rajkot, London, Courbevoie, Manama, Riyadh, Mexico City, Nagpur, Ahmedabad, Colombo, Ranchi, Chennai, Edmonton, Kuwait City, Sydney, Santiago, Noida, Seoul, Ahvaz, Baroda, Gimhae-si, Jamshedpur, Chiyoda, Al Khobar, Montreal, Bogota, Vadodara, Caracas, Bengaluru, Gurgaon, Cairo, Faridabad, Al Jubail, Surat, Madrid, Toronto, Jaipur, Sharjah, Ho Chi Minh City, Melbourne, Hanoi, Port-of-Spain, Pune, Singapore, Jeddah, Ankara, Lahore, Aberdeen, Petaling Jaya, Indore, Nashik, Kuala Lumpur, Ludhiana, Abu Dhabi, Dammam, Calgary, Ulsan, Istanbul, Secunderabad, Kolkata, Kanpur, Howrah, Visakhapatnam, Algiers, La Victoria, Hyderabad, Bangkok, Karachi, Chandigarh, Coimbatore, Granada, Haryana, Busan, Jakarta, Pimpri-Chinchwad, Geoje-si, Hong Kong, Los Angeles, Atyrau, Brisbane, Perth, Bhopal, Dubai, New York, New Delhi, Muscat, Houston, Milan, Thiruvananthapuram, Vung Tau, Lagos, Rio de Janeiro, Tehran, Thane, Ernakulam, Navi Mumbai, Moscow.